This article was written largely by Chicago Anti-Fascist Action
The Background
Thanks to an anonymous online leak of data and materials from influential Neo-Nazi website Iron March where the white supremacist terror groups Atomwaffen Division, Vanguard America, and National Action (among many others) formed, we were gifted with a trove of identifying information about Iron March users. Iron March forums was an internet chat room dedicated to the proliferation of anti-Semitic, racist, Islamophobic, homophobic rhetoric and actions. Members of the forum expressed sympathy toward Norwegian terrorist Anders Breivik and the Charleston church shooter Dylann Roof, as well as the '60s cult leader & murderer Charles Manson.
The released information includes a full copy of the Iron March content including usernames, users' posts and links, along with sensitive details such as the email and IP addresses used to register usernames, plus private messages. All of that data, including the information shared in the private messages which include personal details are the framework which we use to identify users. The raw data is available for download and it was built into a searchable and more accessible website built by Jewish Worker.
The Trace
Neo-Nazi Iron March users "American_Blackshirt" and "Cr4ck3r" have both been linked to one operator; Jacob Alan Rutledge, a resident of Indiana. Jacob has been known to be involved with several other local fascist groups, along with international ones. We are outing him as a warning to all communities to be on the watch for this person and the threat he poses to our communities.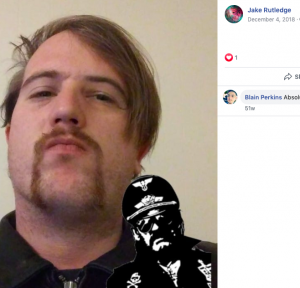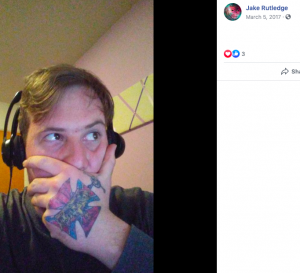 First, we will note that user Cr4ck3r was active on Iron March starting in 2017, and that he says that he is coming back from a multi-year hiatus from fascist organizing. He also mentions that his previous username was "American Blackshirt"[source].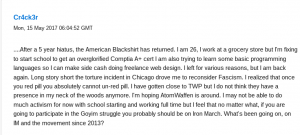 Cr4ck3r appears after user American_Blackshirt goes dark several years prior.


Activities & Confirmation
Jacob is good friends with Iron March user "Daddy Terror" who is Benjamin Raymond,
member of United Kingdom Terrorist group National Action. Jacob and Benjamin talk deeply about Benjamin passing through U.S. immigration enforcement, plus him living in secret while jobless with another member Torren Beitler aka "EvilCatholicNaziGoy." Benjamin living in secret was most likely to evade arrest in the UK [source]. In that dialogue, Jacob goes on to spew several racial slurs. Jacob also discusses purchasing an SKS rifle and ruminates about going to California or the Pacific Northwest to train for an upcoming race war with other members. Benjamin insinuates he is glad to have made it out, hinting that he is in California, where Torren is residing.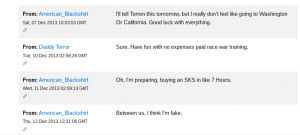 Jacob also discusses wanting to move to Tennessee with ex-Volksfront members [source].


He also talks about wanting to purchase a bump stock before they become illegal [source].


After Jacob leaves Iron March for some time, he returns under the new username Cr4ck3r.  In his return, he admits he has spent his time off of Iron March organizing with Neo-Nazis like Matt Parrott and Matthew Heimbach of the now defunct Traditionalist Worker Party. He states that he has lived with several Traditionalist Worker Party in Southern Indiana. Jacob has an address history of residency in Paoli, Indiana where Heimbach of TWP also resided, before Heimbach got caught by his father and wife while in a delicate act with his stepmother.

Jacob also talks about "Confederate Blood and Honour," a spin off of Blood and Honour plus Combat 18, which are two Neo-Nazi groups internationally labeled as banned terrorist groups [source]. Their return was short lived.
Jacob was also on the Traditionalist Worker Party Discord server "Tradworker" under the username cr4ck3r which was leaked by Unicorn Riot. He posts frequently on Discord, with over 1,600 posts. He reconnects with user "Kombat-Unit" on Discord after leaving Iron March for quite some time. Jacob admits that he would like to join the Neo-Nazi accelerationist group, Atomwaffen Division. He is in communication with Brandon Clint Russell aka "Odin", one leader of the Atomwaffen Division who is now incarcerated and was caught with bomb making supplies.

Jacob's obsession with terrorist groups, firearms, and bombs does not stop there. He offers to take Kombat-Unit to go shoot fully automatic weapons, saying he knows a place about four hours from where he is staying [source].


Jacob admits that he is a white nationalist/white separatist, but that he must act as if he is a normal person at his job, so that he does not get fired [source]. He also admits in other messages that he intends on creating alternative social media profiles so that he can hide his viewpoints from his parents and friends [source].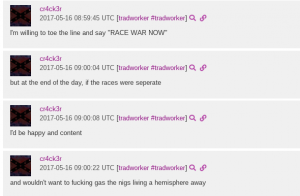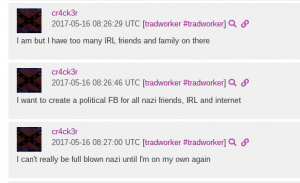 He admits that his fascination with fascism has been lifelong, that started when he was a kid [source].


His obsession with fascism persisted all throughout high school, as he describes on the second page of his Discord leak posts [source], admitting that he knew Benjamin "Noyles" Raymond of National Action for a really long time [source].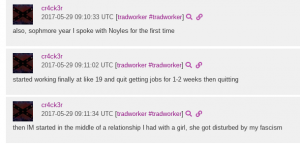 Jacob's long obsession with fascism, firearms, and other Neo-Nazis means that he is very likely prone to violence and further radicalization. His advocacy & propensity for violence is summed up by his wish for genocide [source]:

According to LinkedIn, his last known form of employment is as a laborer at a factory in nearby  Fortville, Indiana.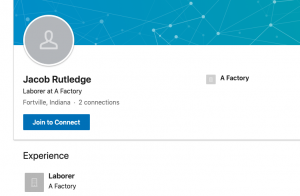 He is currently suspected to be living with his 19 year old fiancé, Autumn, in Indianapolis, Indiana.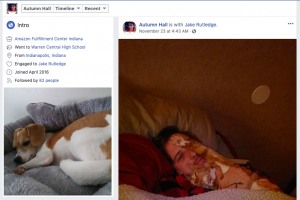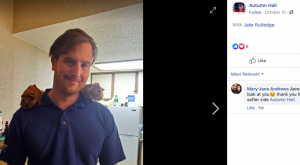 Due to the publishing requirements of this platform, we cannot post private information about people, even fascists. Redacted information about Jacob and Autumn may be found here.
If you have any information about Jacob, other fascists on Iron March or other white nationalists in general, including additional tips, please send them to panicinthediscord (at) riseup (dot) net or DM them to @discord__panic on Twitter