This article was made possible thanks to the work of Utah161
The Background
Thanks to an anonymous online leak of data and materials from influential Neo-Nazi website Iron March, where the white supremacist terror groups Atomwaffen Division, Vanguard America, and National Action (among many others) formed, we were gifted with a trove of identifying information about Iron March users. Iron March was dedicated to the propagation of anti-Semitic, racist, Islamophobic, and homophobic rhetoric and actions. Members of the forum expressed sympathy toward Norwegian terrorist Anders Breivik and the Charleston church shooter Dylann Roof, as well as the '60s cult leader & murderer Charles Manson.
The released information includes a full copy of the Iron March content including users' screen names, posts and links, along with sensitive details such as the email and IP addresses used to register usernames, plus private messages. All of that data, including the information shared in the private messages, are the framework which we use to identify users. The raw data is available for download and it was built into a searchable and more accessible website by Jewish Worker.
The Trace
Neo-Nazi Iron March forum member Blood and Iron has been identified as John Cartwright II, a member of the U.S. Navy last known to be residing in Millersville, Maryland.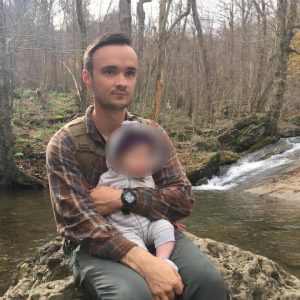 User "Blood and Iron" joined Iron March immediately after its inception, in September of 2011. This early membership gave him plenty of opportunity to let details about his life creep into his conversations with other users over the years. For example, in November of 2011 he tells us that he's living in Hampton Roads, VA.

Also he has a girlfriend.

By June of 2012 he has joined the Navy and proposed to his girlfriend ; they get married on July 15, 2012.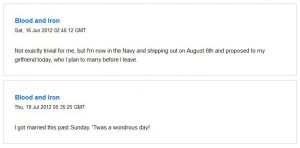 He ends up stationed at Naval Base Kitsap, and moves to Bremerton, Washington.

He is still stationed there in October of 2014[source]. (The other Iron March user in the conversation is Emma "Bear" Stocker, who was recently identified by antifascist researcher @tetravera on Twitter[source].)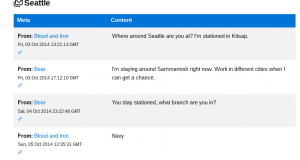 About a month later, on November 4, 2014, Blood and Iron announces that he became a father the night before[source]. (He later tells us his son's name[source].)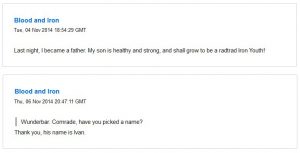 The local newspaper, Kitsap Sun, lists only four babies born on November 3rd, 2014[source, archive]. Of the two who are boys, only one was born to parents living in Bremerton: Lauren Powell and John Cartwright II.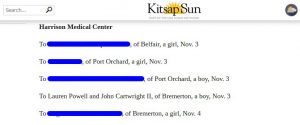 The Confirmation
Although John's Facebook is pretty well locked down, a look at Lauren's Facebook[source] tells us she's been married to Johnny Cartwright since July 15, 2012. Facebook posts from other extended family members confirm their child's name and birth date, and white pages listings confirm that John Carter of Millersville, MD previously lived in Bremerton, WA.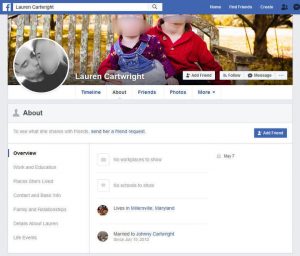 Activities
John Carter has been deeply involved with an influential group of international fascists for many years. Even before the Iron March forum existed, he was part of the International Third Position Federation[source]. He was the third user to register at Iron March, after founder Alisher Mukhitdinov (aka Alexander Slavros)  and National Action leader Ben Raymond, and one of the first to post there.

Note his tagline reference to David Lane's fourteen words, and the shoutout to Adolf Hitler with the number 88.
Carter was also one of three original members of "Black Corps"[source], a small group of users selected by Slavros to act as mods on the forum[source].
Unsurprisingly, Carter was tight with the founders and other core members of the forum. Here, Slavros wishes core members of Iron March a happy new year a few months after the forum opened, and mentions the good times he's had with Blood and Iron[source].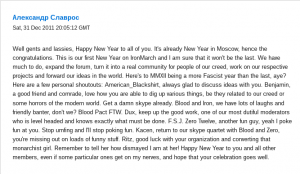 Carter is also a close friend of neo-Nazi Torren Beitler, aka EvilCatholicNaziGoy; Beitler even said he tried to enlist at the same time as Carter so they could go to basic training together. Joining the military didn't work out for Torren, though, because of a paperwork snafu of some kind, and because he later found "better things to do."[source] Since those "better things" apparently included dealing drugs[source], it's not entirely unexpected that his activity with Carter when they hung out together in Seattle involved some illicit substances[source].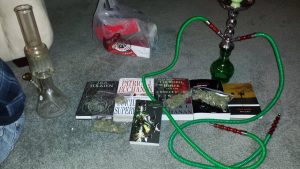 Even the other Iron March users seemed taken aback at the amount, though[source].

Carter is also connected with white nationalist Greg Johnson of Counter-Currents Publishing. Counter-Currents is a publishing imprint described as "an epicenter of 'academic' white nationalism"[source] and "one of the pillars of alt-right publishing."[source] In 2014, Carter was carrying messages from Johnson to other members of the forum, helping him gather materials for a biography of white nationalist Francis Parker Yockey[source].


As "Stahlgeist," Carter organized and socialized with other Nazis from around the world on Steam[source].

On Iron March, he recruited several other American users to a Skype group started by American_Blackshirt, aka Jacob Rutledge[source 1, source 2, source 3, source 4]. The group's purpose was to discuss contributions to "Reaktion," a fascist periodical edited and printed by Rutledge under the nom de plume "Jacob Horst."[source] Carter offered to contribute articles on the Occupy movement and "shabby modern art."[source]
At one point Carter contemplated starting an IRL Integralist group of his own[source], but it's not clear that he ever got around to it. He did manage to find time to post on Iron March while he was on duty a couple of times, though[source 1, source 2]. Carter planned to spend four or, at most, five years in the US Navy, which means he would have finished his hitch by November of 2017 at the latest[source]. As of publication of this article, his wife's Facebook page lists Millersville, MD as her location.
Redacted information about John can be found here.
If you have any information about John, other fascists on Iron March or other white nationalists in general, including additional tips, please send them to panicinthediscord (at) riseup (dot) net or DM them to @discord__panic on Twitter.