This article was made possible by contributions from Chicago Anti-Fascist Action.
The Background
Thanks to an anonymous online leak of data and materials from influential Neo-Nazi website Iron March where the white supremacist terror groups Attomwaffen Division, Vanguard America, and National Action formed, we were gifted with a trove of identifying information about Iron March users. The released information includes a full copy of the Iron March content including usernames, user's posts and links, along with sensitive details such as the email and IP addresses used to register usernames, plus private messages. All of that data, including the information shared in the private messages which include personal details are the framework with which we use to identify users. You may view an online version of the leaks built by Jewish Worker here.
Iron March user "Ober"- the leader of the Chicago Chapter of the Atomwaffen Division, has been identified as none other than Matthew Urbanik, who is last known to be residing in Schaumburg, Illinois.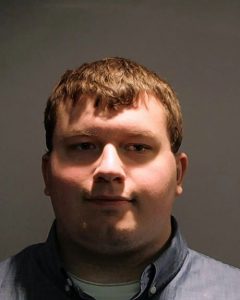 Under the alias "Ober", Matthew mingled with other Neo-Nazis until eventually joining the Atomwaffen Division, a Neo-Nazi group responsible for several murders, including that of University of Pennsylvania student Blaze Bernstein [source].
The Trace
Matthew is described by Michigan Atomwaffen Division Leader "Black Israelite" (whom we will expose shortly) as the Chicago contact and local leader of Atomwaffen Division in conversation with another user who is interested in joining [source]. Matthew confirms his location in several posts, discussing the need for more materials for the Chicago Chapter [source].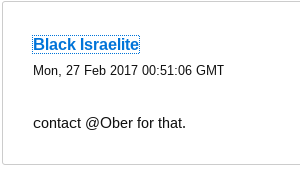 His IP address also points to Chicago several times.



Through open source intelligence, we were able to find these [1,2,3] YouTube videos from 2011 of Matthew Urbanik as a radicalized and Islamophobic 15 year old, making YouTube videos with his friends- already afraid of showing his face on the internet for his fascist views. His casual dehumanization of and subsequent labeling of the entire Islamic faith as filled with terrorists is present not only in these YouTube videos, but all over Matthew's YouTube channel. All of these videos have been downloaded for archiving purposes, and should they be taken down, will be re-posted for posterity. YouTuber "AsIRant" has been identified as well, but at this time has not been identified to be involved in any fascist organizing.
Matthew's own YouTube channel under failurbanik [source,archive]  is still active. Do note the how the email address Matthew used to join the Iron March forum is the same "failurbanik," as his YouTube channel.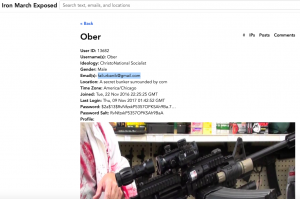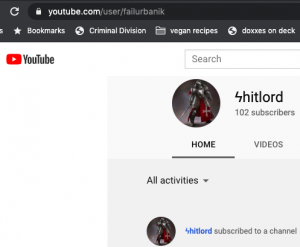 As recently as December 2019, Matthew followed white supremacist personality Nick Fuentes' show America First:


Read more about Nick Fuentes and his white nationalist activity here, including his ties to Charlottesville, his connections to Identity Evropa/American Identity Movement and Richard Spencer. You may review dozens of Matthew's comments on his YouTube channel, with just a few vitriolic comments displayed here for archiving purposes:
Content warning: extreme Islamophobia.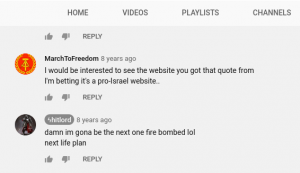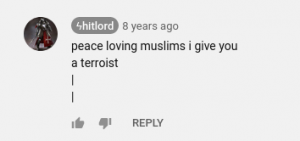 Matthew was arrested in 2017 for posting Neo-Nazi posters from Atomwaffen Division on the University of Chicago's campus [source]. He targeted the University probably because his extended family still lives in the South Chicagoland area [source], not randomly as such other media representations have suggested. Matthew is permanently banned from the University of Chicago campus.
This was not his first time putting up propaganda in the area. Of course, he had to brag [source] about his earlier propaganda attempts in a reference to an article written by Neo-Nazi website The Daily Stormer run by Neo-Nazi Andrew Anglin praising his work.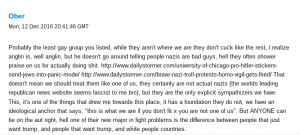 Even after the arrests, Matthew continued posting on Iron March and organizing with Atomwaffen Division until Iron March was shut down in late 2017, and as recently as a month ago is still actively following Neo-Nazi content on the internet. He is a threat to our communities.
When asked if Anders Breivik, a Norwegian terrorist who on July 22nd, 2011, killed eight people by detonating a van bomb amid Regjeringskvartalet in Oslo, then shot dead 69 participants of a Workers' Youth League (AUF) did anything wrong, Matthew replied: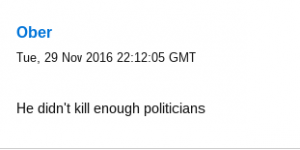 For those betting that he wouldn't be capable of doing so, he talks about his growing firearms collection, which has probably grown in the four years since this post.



Note that Matthew lives in Schaumburg, Illinois in the 60193 zip code. The 60193 zip code resides firmly within the boundaries of Cook County. According to the Cook County Assault Weapons Ban, his possession of the SPAS-12 shotgun in Schaumburg is in violation.
Redacted information about Matthew Urbanik may be found here.
If you have any information about the fascist in this article, other fascists on Iron March or other fascists in general, including additional tips, please send them to panicinthediscord @ riseup (dot) net or DM them to @discord__panic on Twitter.