This article was written by Chicago Anti-Fascist Action.
The Background
Thanks to an anonymous online leak of data and materials from influential Neo-Nazi website Iron March where the white supremacist terror groups Atomwaffen Division, Vanguard America, and National Action (among many others) formed, we were gifted with a trove of identifying information about Iron March users. Iron March forums was an internet chat room dedicated to the proliferation of anti-Semitic, racist, Islamophobic, homophobic rhetoric and actions. Members of the forum expressed sympathy toward Norwegian terrorist Anders Breivik and the Charleston church shooter Dylann Roof, as well as the '60s cult leader & murderer Charles Manson.
The released information includes a full copy of the Iron March content including usernames, users' posts and links, along with sensitive details such as the email and IP addresses used to register usernames, plus private messages. All of that data, including the information shared in the private messages which include personal details are the framework which we use to identify users. The raw data is available for download and it was built into a searchable and more accessible website by Jewish Worker.
Iron March user "Palmer", who was a recruiter for the Atomwaffen Division in Wisconsin, has been identified as Nathaniel D. Palmer of Antigo, Wisconsin.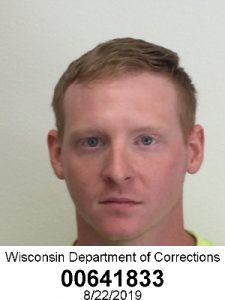 Nathaniel spent more than five years on the forum. He was there from the forum's beginning to its hasty end.  In that time, he connected to many prominent fascists on the platform, recruited people to join the Azov Battalion in Ukraine, and became a recruiter for the Atomwaffen Division in Wisconsin.
Nathan discussed in detail about his recruitment efforts for Neo-Nazis in the U.S. to travel abroad to fight with the Azov Battalion. One discussion of the Azov Battalion was deleted as the other use deleted their Iron March account, but the conversation can still be found in the original SQL database dump here. Palmer's conversation with user "Lost Viking" regarding the Azov Battalion was not deleted, and can be viewed online [source]. The user also hints to us that one of Nathaniel's former aliases was "Ironclad".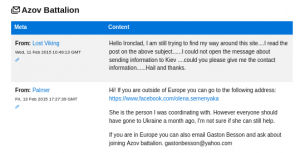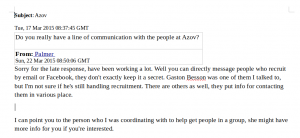 Nathan also talks about an Atomwaffen Division cell starting out in Wisconsin in a conversation with another user, and encourages them to join his Discord server for it [source].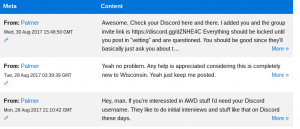 Trace & Confirmation
Nathaniel talks about being arrested for burglary on Iron March with a conversation with another user [source].

He also tells us that he is interested in mixed martial arts[source].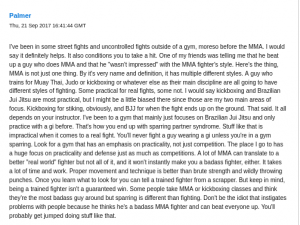 He additionally tells us that he is part of a Masonic lodge, in a message to a now deleted user, that can be accessed by the SQL database of the leaks.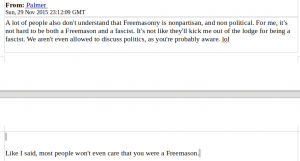 He tells us in the leaks that he used to work at McDonald's, which he tells us in a conversation to now identified member Emma Morgen Stocker aka  "Bear".


According to the Wisconsin Department of Corrections, Nathaniel Palmer (who is from Wisconsin) was arrested for burglary. His LinkedIn additionally tells us that he worked at McDonald's and that he is part of a Masonic Lodge[source].





Nathaniel additionally is into mixed martial arts[source].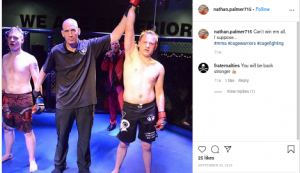 His social media profiles are still following Neo-Nazi accounts as of the date of this publishing. After several Atomwaffen Division members in the Midwest were exposed, we observed him deactivating his Facebook, probably to avoid exposure himself.
His LinkedIn lists him as a laborer for Tradesmen International  whose contact information is here. We do wonder how his employer and fellow laborers would feel about his continued associations with Neo-Nazi groups.
If you have any information about the fascist in this article, other fascists on Iron March or other fascists in general, including additional tips, please send them to panicinthediscord @ riseup (dot) net or DM them to @discord__panic on Twitter.