This identification was made possible by @CentralOregona1 on Twitter.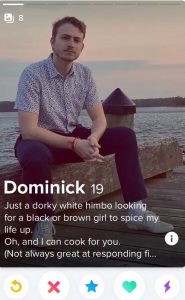 12/2020 update
Swipe left on Dominick Stanley, a contributor to
Daily Stormer
(yes, that vitriolic
hellsite
of far-right neo-Nazi, white supremacist, misogynist, and Holocaust denial commentary and message boards) as he cruises the Lawrence University/Appleton, Oshkosh & Green Bay, WI dating scene. Rumor has it that this Huntington Public School (in NY) graduate was suspended for his harassment of students whom he believed to be Jewish. On an online organizing forum for white nationalists, he left a breadcrumb trail which identified him as the person who wrote
The Wunder Years
series, including the piece he named "Jews Go Up the Chimney."
What's even more troubling is on Dominick's current Tinder profile, the white supremacist is explicitly seeking to match with people of color. We urge everyone in the area to be extra careful, to read/share this dossier, and to stay away from this EDU major and competitive fencer. Antifascism is community defense!
The Background (posted Wednesday, February 26, 2020)
Thanks to an anonymous online leak of data and materials from influential Neo-Nazi website Iron March where the white supremacist terror groups Atomwaffen Division, Vanguard America, and National Action (among many others) formed, we were gifted with a trove of identifying information about Iron March users. Iron March forums was an internet chat room dedicated to the proliferation of anti-Semitic, racist, Islamophobic, homophobic rhetoric and actions. Members of the forum expressed sympathy toward Norwegian terrorist Anders Breivik and the Charleston church shooter Dylann Roof, as well as the '60s cult leader & murderer Charles Manson.
The released information includes a full copy of the Iron March content including usernames, users' posts and links, along with sensitive details such as the email and IP addresses used to register usernames, plus private messages. All of that data, including the information shared in the private messages which include personal details are the framework which we use to identify users. The raw data is available for download and it was built into a searchable and more accessible website by Jewish Worker.
The Trace
As previously mentioned when the Iron March database leaked, antifascists across the country got to work identifying them. First, we observe Dominick's Iron March profile [
source
].
The info that user "Auggie Bo-Dizzle" entered to create a profile on the explicitly fascist forum includes an email "dominick.k.stanley@gmail.com". He also links to two blogs he wrote for: marxistdegeneracy.wordpress.com & jewyorknews.wordpress.com
and a now suspended Twitter account at @Fash_America. He also tells us that he spent time on the infamous Daily Stormer  website under the username "DeShawn.ShekelBerg"
and that his IP address was 24.46.247.10, which traces to somewhere near Huntington, NY" [source]
He additionally tells us in a post that he is in the 10th grade in 2016, when he is posting on Iron March [source], which likely means that he was 15 or 16 at the time. Given this, that would make him 19 or 20 years old as of February 2020.

Dominick K. Stanley was the Huntington (New York) Public School's class president of 2019 and is currently a student at Lawrence University in Appleton, WI.
Read on for a compilation of his fascist activities and a deeper dive into how we found him:
It is of great concern to us that he says he began this pathway to fascism by being "red-pilled" in the 8th grade.  For more information on the concept red pilling, see this
article
.

We reached out to Dominick's mother in December of 2019 presenting her with her son's fascination with fascism and involvement in fascist spaces online. As of the time of this article's publication, we have not received a response or an acknowledgement.
Activities
Dominick's posts on the forums are full of hateful rhetoric. His moniker is a combination of two names, Augusto (Pinochet) and of course, Jair Bolsonaro.  [source, archive]. Augusto Pinochet's US-backed totalitarian rule in Chile led to the internment and execution of thousands of people [source].

On the Iron March forums, Dominick introduces his writing, which chronicles his journey as a fascist for the blog Marxist Degeneracy. His blog is a knock-off of the Daily Stormer, with multiple writers covering explicit or dog-whistle white nationalist topics. Dominick introduces his series The Wunder Years, authored by the same username Augusto Bolsonaro, outlining his experiences as a "nationalist making my way through and coming of age in a vibrant and diverse High School and City" [archive]: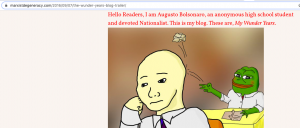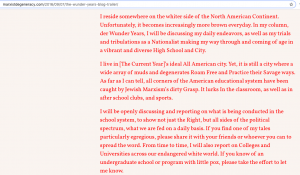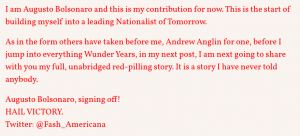 Do note that  he includes the same twitter handle as Dominick included in his Iron March user profile on the signature of this post.
Further, Dominick writes about his experiences being outed as a Nazi on the blog, in his post "Jews Go Up The Chimney"
Additionally, Dominick lists his username as "DeShawn.ShekelBerg" on the Daily Stormer Book Club forum. The Daily Stormer Book Clubs are an  on-the-ground arm of small localized crews of young white men who follow and support the white nationalist, homophobic, misogynist and antisemitic website and try to bring their budding fascistic views to reality in secret meetings.
We see that Dominick was defending fascism on 4chan in February of 2017:
For context, the 4chan /pol/ board is considered the armpit of the internet and a breeding ground of hatred, white supremacy and general violence. For further reading on 4Chan and its ties to white nationalist terror, see this Rolling Stone article, "The Measure of Hate on 4Chan."
Finally, although it may seem like fascism was just a high school obsession for Dominick, we found him in the Daily Stormer comments section as recently as July of 2019. In an article written by Neo-Nazi Andrew Anglin titled: "Trump Gets Harassed by Whining Babies at Stupid Human Rights Press Conference" we see his familiar username pop up with this comment:
The Confirmation
Starting with his e-mail account (which included his full name) for Iron March, we found his instagram [source, archive].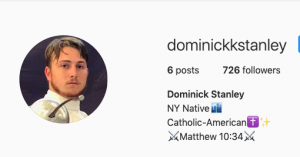 His Facebook page also includes hints at his racism[source, archive]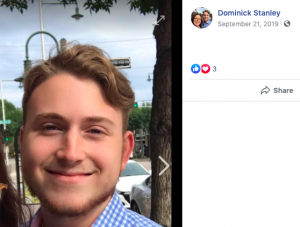 It is important to note that in March 2017, when Dominick posts a Facebook profile picture frame saying "I stand with refugees," his FB friend says that he [Dominick] does not [stand with refugees] and Dominick replies that it "looks good for college."  During this time, Dominick was applying for colleges and applied a veneer to his college admissions counselors. On his Facebook, we also easily find his mother, Dominique Stanley in his friends list. We confirmed his age when Dominique posts about his birthday on her own Facebook page, identifying his birth date as
More research on Dominick reveals how he won the ATH scholarship for his university of choice, Lawrence University, as reported in the Huntington Public Schools website:
Dominick is currently a student at Lawrence University, where he is a member of the fencing team [source, archive]:

Per his own admission, he is thinking about pursuing education: "[Dominick Stanley] has given a possible career in teaching a great deal of thought," in an interview on his Huntington Public School's website [source, archive]: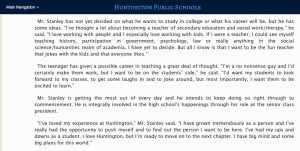 Given the corrosive nature of fascist ideology, it is especially alarming that Dominick would want to work with children. As an authority figure, he would have an incredible amount of persuasion and could lead other youth to the next fascist forums, anonymous hate-fueled writings, and could also lead them into real world action like joining a fascist organization or committing "lone wolf" attacks, as previous fascists have.
Due to the requirements of this platform, we cannot post private information like addresses about a fascist. For redacted information about Dominick, please see this archived link.
If you have any information about the fascist in this article, other fascists on Iron March or other white nationalists in general, including additional tips, please send them to panicinthediscord (at) riseup (dot) net or DM them to @discord__panic on Twitter